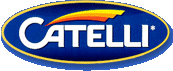 This coming weeks Loblaws flyer in Ontario is advertising Catelli Healthy Harvest and Smart Pasta 3 for $2. This works out to just $0.66 each so with the $0.75 coupons that were found in store for Healthy Harvest and the ones on save.ca for Smart pasta you can get them for free. Sure wish I lived closer so I could stock up on this great deal. The flyer runs from June 18-24.
Click here to view the discussion thread.
Thanks to cesme77 for posting the flyer and this great deal.