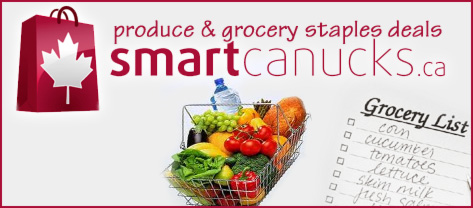 Cooking from scratch this week?  Don't shop without checking our list of produce and grocery staples to save on meat, dairy, fruit, vegetables and other grocery staples.  Some highlights of the deals this week:
Atlantic SuperStore: Lean ground beef $2.99/lb
Food Basics: Selection or Smithfield bacon $1.97
FreshCo: Boneless Skinless chicken breasts $3.33/lb
Loblaws (Ontario): Extra lean ground beef/turkey/chicken $3.99/lb
Loblaws (Quebec): Broccoli $0.99ea
Maxi: Boneless skinless chicken breasts $3.77/lb
Metro:  Asparagus $1.99/lb ~3 day sale~
No Frills:Asparagus $1.99/lb ~3 day sale~
RCSS: Mushrooms 3/$5 or D'Italiano $2
Click here to view the full list.  We separated the Thanksgiving dinner deals for you to include some more processed items, click here to see the Thanksgiving Dinner deals.