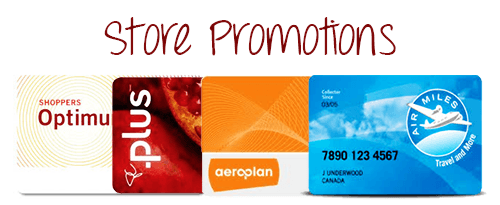 Here are the deals you can get in stores this week.  Most Loblaws banner stores also have huge baby sales so check them for PC Plus offers
Loblaws: 2500 PC Plus when you spend $20 on Joe Fresh Baby
Loblaws Quebec: Spend $20 on fresh meat and get 2000 bonus PC Plus points
Metro: Spend $60 get 20 bonus Air Miles, Spend $80 get 40 bonus Air Miles or Spend $100 get 60 bonus Air Miles (Friday-Sunday)
No Frills (West/Atlantic): Get 2000 bonus PC Plus when you spend $20 at the deli
RCSS (West): Spend $250 and get a $25 gift card (Friday-Sunday) or Spend $200 and get 8pk stemless wine glasses ($19.99 value) valid all week. Get coupon in flyer for this offer.
RCSS: 2500 PC Plus when you spend $20 on Joe Fresh Baby
Rexall: Buy two boxes of Halloween candy and get a $10 gift coupon
Shoppers Drug Mart: Double Double promotion. Spend $75 this weekend and get a $10 Shoppers Drug Mart gift card and $10 Tim Hortons gift card.
Sobeys Atlantic: 50 bonus Air Miles when you spend $100+ plus save 10/c/L on gas or spend $150+ and earn 100 Air Miles and 20c/L – ends Sunday 12 October