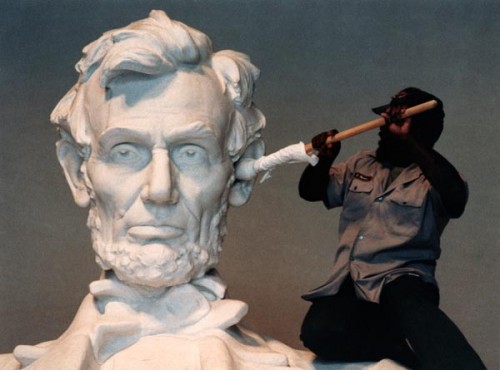 It's been a little over a year since our last caption challenge, so we'll forgive some of our newer readers if they make puzzles faces when we say the word "return." The challenge (as well as it's author, humble ol' Jim Squires) has returned from a lengthy hiatus, eager to see what silly captions the SmartCanucks readers are ready to create!
And before you ask, sorry folks, there's no prizing or winners here. The challenge is simply a weekly exercise in silliness where the suggestions of your fellow SmartCanuckers can quickly put a smile on your face. If you'd like to enjoy some of the past entries, feel free to explore the tag caption challenge.
This week's photo challenge takes place at Washington's Lincoln Memorial, where the famed marble man sits atop his perch, getting a much needed ear de-waxing. Far be it from me to advise the former presidents, but they really say you shouldn't stick anything smaller than an elbow in your ear… Although I guess a cotton swab of that size is a bit bigger than the common elbow.
So without further ado, please give Mr. Lincoln and his swab swinging friend your best captions in the comments!