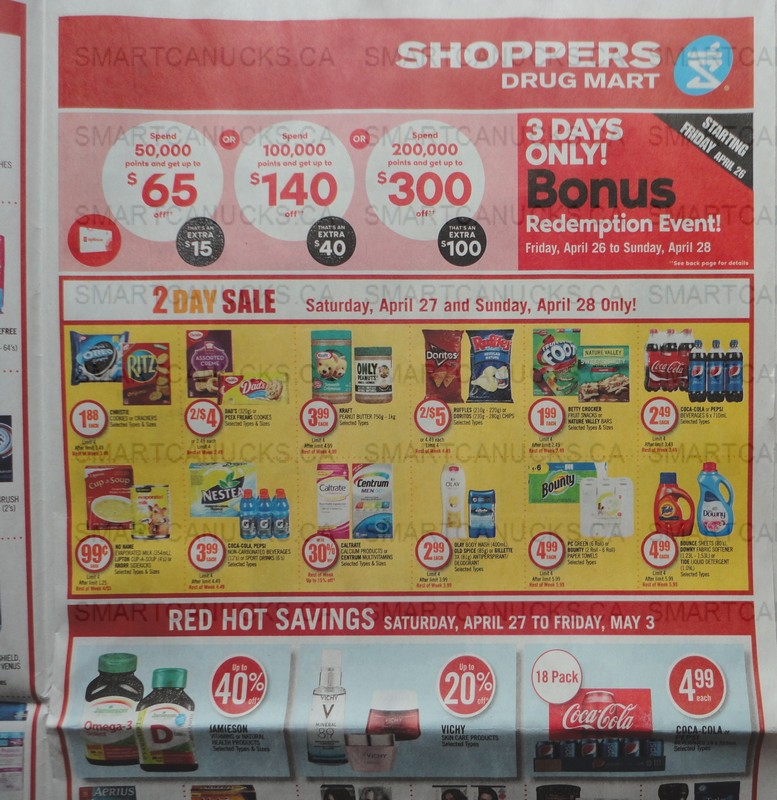 From April the 26th to the 28th your points are worth more at Shoppers Drug Mart Canada! During these three days, redeem your points at certain levels, and receive up to an extra $100. Here are the redemption levels and corresponding values for this redemption:
Get up to $65 off when you redeem 50,000 points
Get up to $140 off when you redeem 100,000 points
Get up to $300 off when you redeem 200,000 points
There is also a gift card promotion in this flyer. All week long, purchase a $30 Netflix gift card and get 5,000 PC Optimum points. Your points will not appear on your receipt for this promotion, so do keep the receipt handy as you will have to wait until May the 24th for the points to be added to your account.
There's a two day sale on Saturday and Sunday so be sure to take advantage of some of these sale prices if you are redeeming. Eggs are $1.88 on these two days with a limit of two. No Name Butter is $3.49 with a limit of four, and No Name or PC Cheese Bars are $3.99 with a limit of four.
Click here to view the upcoming Shoppers Drug Mart flyer.