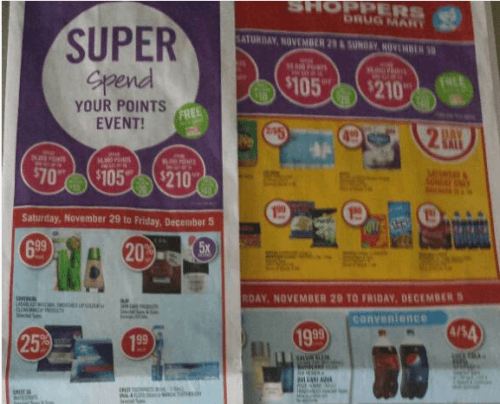 It is the sneak peek you have all been waiting for, we have the Shoppers Drug Mart redemption flyer thanks to an early upload from Briwantstosave!
Redemption is valid on Saturday and Sunday
Spend 95,000 points for $210 (reg $170)
Spend 50,000 points for $105 (reg $85)
Spend 38,000 points for $70 (reg $60)
Click here to view the flyer sneak peek for this redemption event.  Briwantstosave is in Eastern Canada so prices may vary in other provinces.
Remember that if you redeem for items with bonus points, you will only get the points if they have a set number of points, and not 20x offers and you have to pay taxes on your redemption.
They also have a two day sale on select electronics.
XBox One bundle is $449.99 plus you get 10,000 bonus points and a $50 gift card with your purchase
HP 15.6″ touchscreen laptop $299.99 – only $89.99 after redemption!
Nikon Coolpix $129.99 (rest of week $179.99)
We will let you know as we get flyers for other provinces.