Starbucks beautiful Holiday cups are back for 2022 and with this time of year, the Peppermint Mocha is also back on the menu as well as tons of delicious other festive treats. 😋
Let's begin with these new cups. Some beautiful designs consisting of festive Christmas patterns, sparkles, holiday ornaments and snowflakes.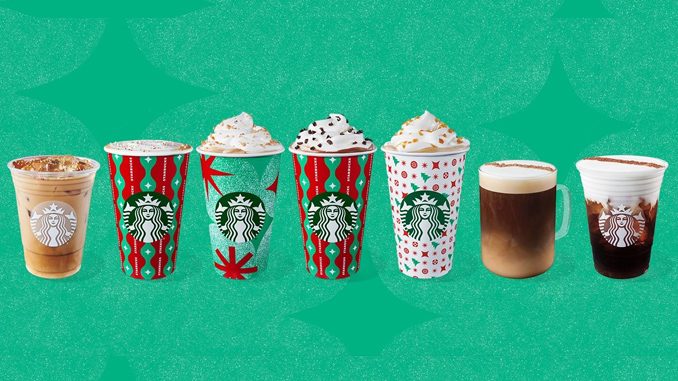 As for the menu, here are the items on this year's Starbucks Holiday Christmas menu:
Peppermint Mocha: espresso mixed with steamed milk, mocha sauce and peppermint-flavoured syrup, topped with whipped cream and dark chocolate curls.
Chestnut Praline Latte: Espresso, steamed milk and the flavours of caramelized chestnuts and spices topped with whipped cream and spiced praline crumbs.
Caramel Brûlé Latte: Espresso, steamed milk and rich caramel brûlé sauce are combined and topped with whipped cream and caramel brûlé topping to create the Caramel Brûlé Latte.
Sugar Cookie Oat Latte: Combines sugar cookie syrup, Starbucks Blonde Espresso, ice, creamy oat beverage and is topped with festive red and green sprinkles.
Irish Cream Duo: Combines bold, super smooth Starbucks Cold Brew with Irish Cream syrup, which is then topped with vanilla sweet cream foam and a strike of cocoa powder.
Irish Cream Americano: caramel espresso and Irish Cream syrup, topped with hot water and steamed milk, and a subtle sprinkle of cocoa.
Food items on Starbucks Canada holiday menu:
Peppermint Brownie Cake Pop
Gingerbread Loaf
Cranberry Bliss Bar
Frosted Snowman Cookie
Enjoy this year's Starbucks festivities.