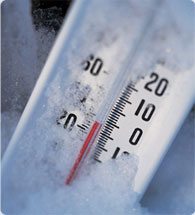 Thanks to global warming many of us here in the Great White North have been able to stave off the cold for a few weeks longer than we're used to. As we creep closer to January though, it's good to be prepared for the winter weather that awaits us and the high heating bills that come with it. The Ontario Ministry of Energy has put together a handy energy saving guide titled "Conserve Energy and Save Money." Not only does it offer a number of handy tips for reducing your heating costs this winter, but it'll give you some other environmentally friendly money saving tips that you can use all year round.
Heating-related highlights include;
Use area rugs on cold floors – if your feet are cold, your body will feel cold.
Clean or replace the air filter on your furnace every month to improve efficiency.
If you feel cool, put on a sweater rather than simply turning up the thermostat.
You can check out the online version of the guide here, or you can order a print version here.