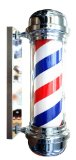 If you've never had a chance to read The Wealthy Barber, you should probably drop everything you're doing right now and go hunt down a copy.  David Chilton's 1989 book about personal finance is the definitive guide to common sense savings, paying down debt, and everything else the a money-conscious SmartCanucker should know.  What's more, unlike most personal finance books it's written in a friendly and accessible way.
"Ok Jim, it's a good book.  But why are you bringing it up more than 20 years after publication?"  Because The Wealthy Barber is coming back!  David Chilton will be publishing a brand new book discussing how best people can tackle in their finances today, and it's coming out in the Summer of 2011 — The Wealthy Barber Returns: Significantly Older and Marginally Wiser.
Want a taste?  The Toronto Star just published an excerpt from the book, and it's available on their website. There's also a great recent interview with Chilton here.