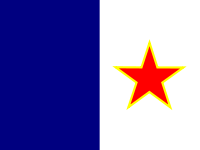 I was doing a little reading on our nation's past today like every good Canadian should from time to time, and I stumbled across something I'd never seen before — this flag.
And while I know what it is now due to the context of the article I was reading, I would have had no idea had someone just shown it to me out of the blue. So I put it to you, SmartCanucks nation — what flag is this?
(If no one gets it right in the next day or two, I'll make sure to give you the answer in the comments).