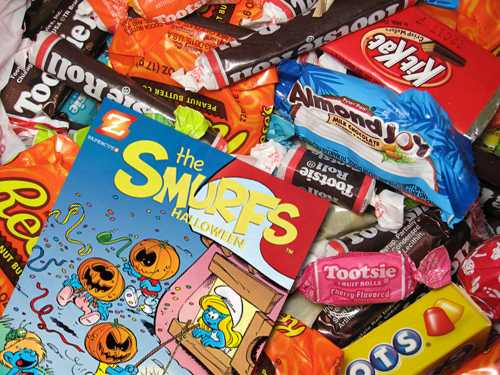 I know, I know..  The obvious answer to this is "candy," but don't you want to be the one house on the block that does something different this year?  Something hip and cool?
There's always the one house that gives out cans of pop and full size chocolate bars — and it's pretty easy to become the most popular house on the block doing that — but what about doing something that'll really stand out?
No, I'm not talking fast food gift certificates (though those are always nice) or something wacky (like a live squirrel) — I'm talking comic books.
Starting in 2009, certain comics publishers have been banding together each fall to offer Halloween mini-comics.  They're small enough to fit in a child's candy bag, big enough to read comfortably, and cost about the same as a quality candy product.  One of my local comic shops (featured previously on SmartCanucks) is selling them in bundles of 20 for $5.  We get 80-100 kids every year, so I dropped $30 and squared away my Halloween hand-out shopping early.  The best part?  Rather than giving kids more junk food (they'll have every other house on the block for that) I'm giving them something that can stimulate their minds a little.  Plus, I'm not going to be tempted to eat the comics while waiting for 10/31 to roll around.
Thinking of doing the same?  Call your local comic shop to see if they're carrying Halloween mini-comics.  Not thinking of doing the same?  Tell us what you're giving out this Halloween!