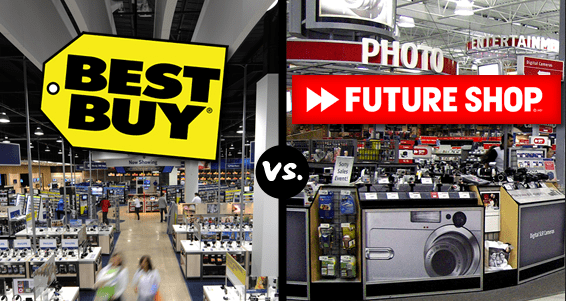 Some workers were laid off as of last Friday, others showed up to work today to find notices on the door that the Best Buy or Future Shop location they worked at was now closed.
The Best Buy stores that are now closed or will close soon are:
Queensborough
Nanaimo
Victoria
Langford (Westshore Town Centre)
South Surrey, British Columbia
Lachenaie, British Columbia
Sherbrooke (SmartCentres Sherbrooke), Quebec.
and the Future Shop stores:
West Kelowna, British Columbia
Montreal (Forum Entertainment Center), Quebec
Laval (First Pro Ste-Dorothee), Quebec
Winnipeg (Regent), Manitoba
Calgary (Macleod), Alberta
Ancaster, Barrie South, Ontario
Mississauga (Erin Mills), Ontario
More store closures may follow as the company move to smaller concept stores in an effort to combat overhead as customers visit stores to try out items but shop online for cheaper deals.