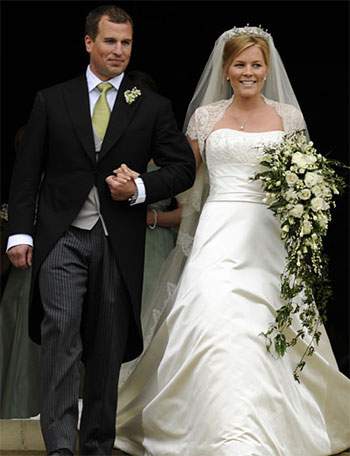 Peter Phillips the 11th in line to the throne, became yesterday the first of Queen Elizabeth's grandchildren to wed, marrying his Canadian bride Autumn Kelly.
Autumn Patricia Kelly was born in 1978 in Montreal, Quebec. Kelly graduated from McGill University with a Bachelor of Arts degree in East Asian Studies in 2002 and started a career as a management consultant. While at University, she worked as a bartender and model.
Girls out there wondering how Autumn Kelly got to meet Peter Phillips 😉 … Autumn Kelly and Peter Phillips, who was working for WilliamsF1 at the time, met at the Canadian Grand Prix in Montreal in 2003.
Interestingly Peter Phillips could have lost his place in the line of the succession to the Throne because Autumn Kelly was a Roman Catholic. However, a couple of weeks ago she renounced her Roman Catholic faith for the Church of England.
So as the Telegraph puts it: If by some tragic mischance, or distressing Nepalese-style bloodbath, the Prince of Wales, Princes William and Harry, Prince Andrew, Princesses Beatrice and Eugenie, Prince Edward and his children and the Princess Royal were all snuffed out, it will be Peter Phillips rather than his feisty sister Zara whose head will one day appear on the stamps. And his wife will be the Canadian Autumn Kelly.