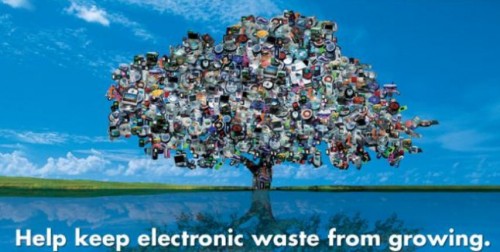 Recently after purchasing a new mouse for my iMac, I realized just how many broken peripherals and electronics have been collecting dust in my house!
My family's embarrassing collection includes 2 unused printers, a couple of broken DVD players, digital clock radio, a PDA, water damaged keyboard, and a whole whack load of broken, cordless phones!
If it were up to me alone, all these items would be thrown out by now. However, for one reason or another, they're still here so it's time for me to take action.
Solution #1: I could donate my items to the local Value Village. However, this solution seems pointless since half of the electronics are broken anyway. Eventually, if they are put out and purchased, savvy customers will return them, and they'll eventually end up in a landfill! Not very environmental.
Solution #2: I googled "electronic recycling [name of my city]" and to my delight, my city is running electronic recycling events this week, at various locations.
Solution #2 seems like a better option to me. Not only can I do some Spring cleaning, by decluttering my house of unused, broken items; more importantly, I won't be contributing to the local garbage heap!
In addition to temporary Earth Week recycling events, there may be even permanent, Community Recycling Centers that will accept your wares. While I was at a Staples today, I even noticed recycling boxes for items such as empty printer ink cartridges and cell phones.
So just a friendly reminder that if you have to get rid of some household electronics, whether obsolete or just plain broken, check out your municipality for an eco-friendly solution!
Happy Earth Day! 🙂