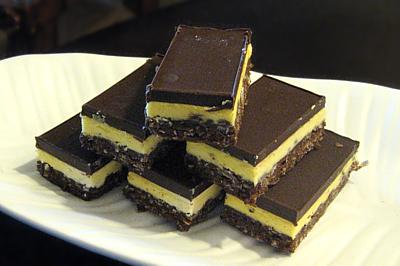 Most of our dietary intake is made up of common North American cuisine – vegetables, pasta, Hot Pockets – the list goes on and on. But some of the things on our menu are distinctly Canadian. Great Canadian Foods is a new weekly feature on SmartCanucks exploring the tastier side of Canadian living.
From Tim Horton's to maple-flavored… well… everything, Canadians have a well-documented sweet tooth that's seemingly impossible to satisfy. Case in point: Nanaimo Bars.
This no-bake dessert starts out with a graham wafer bottom, a midsection made of custard, and a top made out of chocolate. There seem to be infinite variations, ranging from mint to Grand Marnier, but that doesn't make the original any less delicious.
As you can probably guess from the name, the Nanaimo Bar was popularized just outside of Nanaimo, British Columbia — but was it actually born there? The origins of this delicious chocolaty treat are a subject of great debate amongst dessert loving food historians.
The first time a recipe for Nanaimo Bars showed up in print was in the 1952 "The Woman's Auxiliary to the Nanaimo Hospital Cookbook." At that time, the treat was referred to as "Chocolate Slices." Two years later the term "Nanaimo Bars" began showing up in print — a term that some suggest was popularized by US tourists who would indulge in the tasty treat when vacationing in the region. But where did this recipe actually come from?
One claim suggests that the treat originated in New Brunswick. Another suggests it was a New York recipe from the 30's. Some even think the treats may have originated in England in the late 1800's, with the bars being shipped by relatives to coal workers in Nanaimo (though considering the lack of adequate refrigeration back then, this seems to be an unlikely scenario at best.)
The most compelling evidence suggests that these date back to the early 1930's in Alberta, where "smog bars" were relatively common, and shared a virtually identical recipe.
Regardless of it's origins, few Canadian treats are as sweet or as tasty as a Nanaimo Bar. Why not try to make your own? Try this recipe from Joyce Harscastle — it was declared the ultimate Nanaimo Bar recipe by the City of Nanaimo back in 1986!