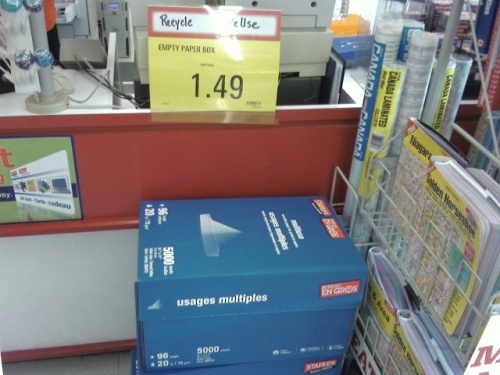 I was in my local Staples a few weeks back to get a little faxing done, and couldn't believe what I saw in their copy centre. They're selling empty paper boxes for $1.49. These are the boxes that the copy centre empty as they use up paper during the course of their daily work. And while I appreciate the sentiment of wanting to give these boxes a good home rather than adding to the mountain of recycling out there, it's amazing that they actually have the audacity to ask you to pay for their garbage.
Why not just give the boxes away? Grocery store do it. Liquor stores do it. Can you imagine running into an LCBO to grab a few boxes for moving day and being told "that'll be $1 a box please"? IT'S THEIR TRASH. I can't state this enough.
Gah.. There should be a law about this sort of thing. A+ for ingenuity, but a big fat F for greed.