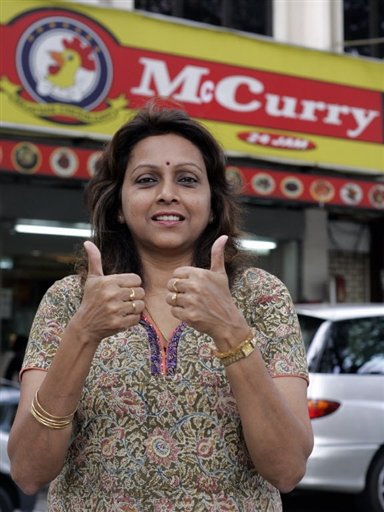 McDonald's will go a long way to protect their trademark. So much so, in fact, that it seems they're willing to sue any restaurant that starts with the prefix Mc. McCurry was one such restaurant.
The Malaysian-based, family owned establishment has little in common with McDonald's outside of the "Mc" prefix and colour-scheme, but that was enough to set McDonald's into an 8-year court battle over the name.
During that time, the restaurant dropped the C from their sign, going by the name M Curry until the dispute was resolved. M Curry's menu couldn't have been more different from McDonald's. Serving traditional Indian foods like curry and dosai, there's not a burger or fry anywhere in sight. The restaurants problems started back in 1999 when they decided to shorten their name from the rather verbose Malaysian Chicken Curry Restaurant. Since then it's been an uphill battle of legal fees and undue stress.
Last week, M Curry's owner climbed a ladder and put the C back on the sign. The battle was over. McCurry won out.
McDonald's could still (and likely will) attempt to appeal the decision, and McCurry's legal woes could be far from over. It's just amazing to see the lengths some companies will go to to claim dominion over something as simple as a couple of letters.