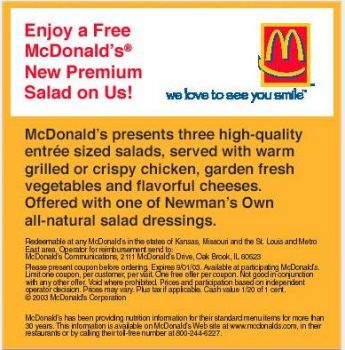 Came across this one on Snopes earlier in the week and was instantly reminded of one of our more popular threads in recent months, the one about the Maple Leaf Foods coupon being invalid. On the one hand there were dozens of people claiming that stores were still taking the coupon and encouraging others to use it anyway. On the other hand were dozens of others calling those people dishonest thieves. While I won't weigh in on the debate one way or another, I couldn't help but have it in the back of my mind when I read the Snopes article.
It seems that back in 2003, a similar (albeit worse) situation had arisen for McDonald's in the US. To coincide with the launch of their Premium Salads, a coupon starting circulating online inviting people to "enjoy a free McDonald's new Premium Salad on us!" The problem? McDonald's didn't issue it. Not only did they likely lose out on all of that lost product before the issue was identified, but the issue became so widespread that a call to their 800 number offered "If you are calling about the McDonald's salad coupon, please press #1" as an option! That means meetings, strategy sessions, attack plans, and all of the trickle down costs associated with getting everybody in the company up to speed on the issue. Sure they could afford it, but can you imagine how much they spent?
If this post has at all piqued your curiosity, you can check out the full article here.