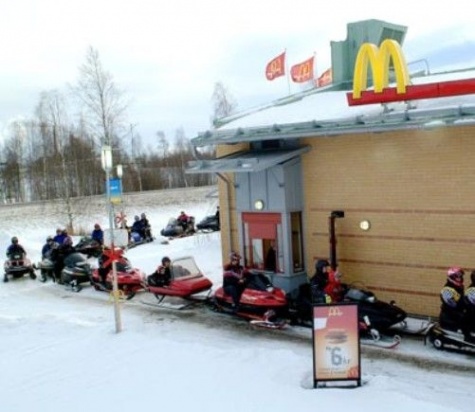 The fine folks over at RobotNine have posted up an nifty collection of photos of strange McDonald's locations from around the world. The real highlight? This McDonald's in Piteå, Sweden opened the world's first (and to the best of my knowledge, only) snowmobile-specific drive thru.
While you might not think there'd be much call for that, Piteå is in the Arctic Circle. You're likely to find a few more snowcats than Prius' that far north.
A little further research (courtesy of American Snowmobiler Magazine) shows that the project was short-lived. While the drive thru opened in 2002, the restaurant actually closed in 2007. There's a pretty good chance that a major Swedish fast food chain may take over the facility, which means that hungry snowmobilers can still get their burger fix without shutting down their engines in the cold.