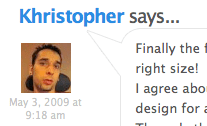 Lots of new changes around here lately thanks to the beautiful new overhaul Boo has given the site. I'd like to talk to you about one of those changes right now, since I know questions about it are bound to pop up about it sooner or later: avatars.
As you may have seen, a few folks (myself included) now have their picture beside their name when commenting on a post. This is done not through SmartCanucks, but through a website called Gravatar. Gravatar is something of a universal avatar system. While it won't work for every website you visit, you'll find that many of the blogs you comment on have gravatars active.
Once you've set up your gravatar account any site that has a connection to gravatars should automatically begin to show your photo next to the comments. Neat, huh?
If you want to start showing off that pretty face of yours, click here and set up a Gravatar account!