This could be the easiest and fastest $300 you've made in a long time, as right now, when you open up a new TD All-Inclusive Banking Plan or TD Unlimited Chequing Account, you can receive a $300 bonus from TD Canada Trust.
To receive this fast and easy chunk of change, you will first have to open up either a brand new all-inclusive banking plan or a new unlimited checking account, but not matter which option you choose, you will have to do this before October 4, 2017.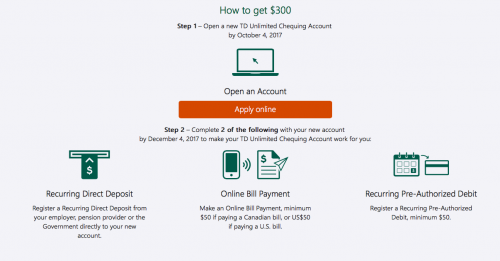 You will then have to complete two of the three options below to have your TD unlimited checking account fully activated and be able to receive your $300:
register a recurring Direct Deposit from your employers, pension provider or the Government directly to your account
make an online bill payment, minimum of $50 (if paying in Canada) or $50USD (if paying a bill in the US)
register a recurring pre-authorized debit, minimum of $50
You will have until December 4, 2017 to complete two of these three steps, but you won't receive your money until you have completed them so I suggest you do that well before then – especially since the $300 won't be deposited into your account until about 8 weeks after you have successfully met all the requirements.
Click here to read the full terms of the bonus $300 from TD Canada Trust.