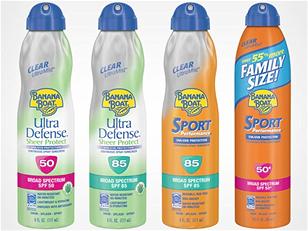 Banana Boat/Energizer is pulling two types of continuous spray Banana Boat sun care products from stores across Canada – Banana Boat Ultra Defense Spray Sunscreen and Banana Boat Sport Performance Spray Sunscreen.
Energizer who own the Banana Boat label says there is a "potential risk of product igniting on the skin if contact is made with a source of ignition before the product is completely dry."  There are five cases of users catching on fire, four in the US and one in Canada.
The products were sold nationally from January, 2010, through Sept. 20, 2012.
If you shopped in the US, the list is much longer, view it here.
Consumers who purchased the products are being told not to use them. More information is available from the manufacturer at 1-888-SUN-TIPS (1-888-786-8477) Monday to Friday 8 a.m. to 7 p.m. ET. or by sending an email to: [email protected]