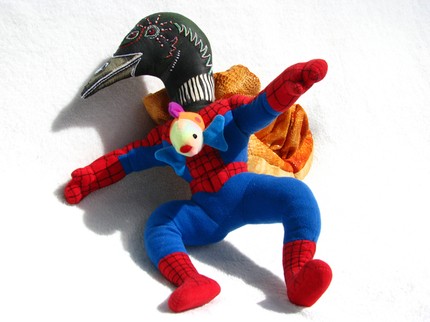 I was at a baby shower for some friends this past weekend, and while the endless parade of cute clothes and recieving blankets will no doubt see their use, there's one present that truly stuck out.  It was a baby doll — but not just any baby doll.  This one was wearing a hat made from the skin of Yo Gabba Gabba's Brobee, had the ears of what appeared to be Gizmo, and had been somehow fused inside of the sea turtle from Finding Nemo.  It was a brilliant, charming, horrifying creation called a Franken Toy.
Franken Toys are unique works of art created by a Hamilton-based artist Rachel Peters.  Rachel takes a variety of stuffed animals, disassembles them, and then makes amazing — and slightly macabre — new toys by stitching together different body parts.  This can lead to everything from the cutesy (JackJackceratops) to the downright bizarre (Half and Half).
The current offering of dolls ranges in price from $24.95 to $74.50.  Is it a steep price to pay for $3 worth of toys from Valu Village stitched together?  Absolutely.  But it's also a wholly unique piece of art that you're not going to find anywhere else.
If you're looking to give a one of a kind, totally unique gift to the friend on your list who loves things that are a little …eccentric, then these are pretty much guaranteed to satisfy.  Check out Franken Toys on Etsy.